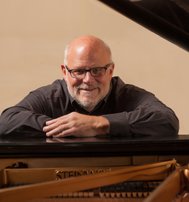 Dr. Richard Van Dyke, DMA, NCTM
Owner, Practice to Prosper Piano Studio
Dr. Van Dyke teaches piano and coaches chamber music at the Practice to Prosper Piano Studio at the Cincinnati Music Academy in Cincinnati, Ohio. An active performer and pedagogue, he has presented his research at local, state and national venues.
Dr. Van Dyke's students range in age from five to seventy, performing all styles of repertoire. Students learn to appreciate music as they incorporate music theory, music history, ear-training, collaborative piano and technical development into the regular scheduled lesson. With the studio motto, "Practice to Prosper," his highly motivated students work diligently to make the jump from intermediate to advanced literature.
Dr. Van Dyke's pre-collegiate students have been recognized for their performances at Auditions Festival, David Dubois International Piano Competition, Depauw Young Artists Piano Competition, Graves Piano Competition, Junior Music Experience, MTNA National Competitions (State Division and National Finals), the Music Development Program (formerly TAP), New Horizons Piano Competition, OhioMTA/Graves Piano Solo and Ensemble Competition, the Overture Awards and Pre-Collegiate Buckeye Competition. His advanced students have been accepted into the music programs at the following universities: Cleveland Institute of Music, Eastman School of Music, Indiana University Jacob School of Music,University of Cincinnati College-Conservatory of Music, and other fine institutions.
Richard Van Dyke, the 2010 OhioMTA Independent Music Teacher of the Year, completed his Doctor of Musical Arts Degree in Piano and Master of Music Degree at the University of Cincinnati College-Conservatory of Music. His primary teachers were Elisabeth Pridonoff, Eugene Pridonoff and Richard Morris. He studied collaborative piano and chamber music with Sandra Rivers and his pedagogy mentors include Dr. Michelle Conda and Dr. Cleveland Page. Prior to attending the University of Cincinnati he studied with Dr. Carolyn Britton at the University of Wisconsin - River Falls and Beverly Hassel at the University of Wisconsin - Oshkosh where he completed his Bachelor of Science Degree.
As an active member of MTNA, Richard chaired many events for the OhioMTA Southwest District. He served MTNA as the OhioMTA Southwest District secretary and president. His state board positions include the Independent Music Teachers' Forum Chair, the MTNA National Competitions Coordinator and VP-Student Activities. Dr. Van Dyke is currently the Immediate Past President of the OhioMTA and is an adjunct professor of music at Northern Kentucky University
Richard has performed numerous solo and chamber music recitals throughout the Midwest. In addition to recital performances, Dr. Van Dyke has given lecture recitals/demonstrations to Ohio Music Teachers Association and KMTA members. He also serves as a guest lecturer at both the University of Cincinnati and Northern Kentucky University. He has been chosen to speak at the National Conference on Keyboard Pedagogy in Chicago, IL (July 2011 and July 2015) and Music Teachers National Associations National Conference in Anaheim, CA (March 2013).